Registration is OPEN: 10th Annual Ride!
NEW Ride Date: June 14, 2014
A new date has been chosen taking MANY factors into consideration. Thanks for all the feedback and we hope you all can make it. Look forward to another amazing year!
Total 200 is a
one day double century bike ride
(200 mile & 200 kilometer options) from Washington DC to Southern Maryland peninsula and back. No question, you need your A game when you show up. Take on the challenge to finish a double century in a single day and have fun doing it.
There are events, there are races, and then there are epic rides. Starting at dawn and not ending until near dusk (there are a few exceptions), cyclists start the journey from Capitol Hill traveling to the Southern Maryland, have lunch, and then venture home.
Blog:

Make sure to get your Total 200 10 year bike jersey now. Only for a limited time. Please note that jerseys will NOT be shipped prior to the event, but will be available at check in on the morning of the event. If you are not at the event they will be mailed to you after the event. Get them when you register or at the Gear Shop.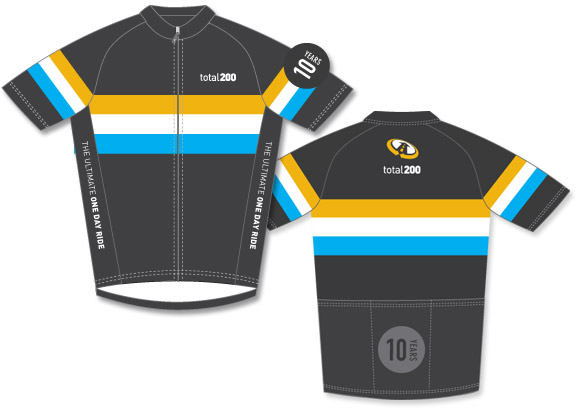 Read More »

We have secured a block of rooms at Capitol Skyline at a discounted rate for anyone interested in staying close to the event. This hotel is not only close to the event but also blocks away from the US Capitol and the National Mall. Plus it has a great outdoor pool and bar. The rate is available for participants for Friday and Saturday nights at a rate of $129.
To make reservations call (800) 458-7500 and be sure to reference "Total 200" to get the discounted rate ($129 double).


With registration opening we know some of you will have questions. What's the new jersey look like? As soon as we finalize it will post it here and on Facebook! Where's the new route? We are still finalizing the route for 2014. More details will become available in the next couple months. We will use some of the same roads and check points, changing some sections to be more scenic. We're also looking at a different venue to host our start/finish area. Does the ride sell out? Yes, the 200 miler typically sells out. Is there a ride hotel? Not yet, but that will be finalized once the start location is set. Are there discounts? Yes, for DC Tri Club and active military.
Read More »