Buzz about Total 200
The most difficultest awesomest thing I've ever done, in spandex or otherwise. Thanks to all the volunteers! Great job! A++
2010
Bike Support
Arrow Bicycle has been a great supporter of the ride and many other events throughout the Washington DC metro area.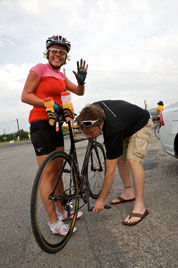 We'll help you go the distance
Support:
Check Point Crew and Supplies
Volunteers: Please treat them politely!
Hammer Nutrition products (HEED, endurolytes)
Water / Ice
Fruits (bananas, oranges, grapes, etc)
Snacks, cookies, chips, etc
Lunch stop will also have sandwiches, chips and drinks.
Cash & Carry minimal bike supplies.
Cue sheets in case you need another one.

Technical Bike Support
Roaming bike support... more to come.

Special Needs Bags
For those doing the 200 mile ride, if you have special diet needs we will transport your food to the lunch stop (half way point). Please note that it will not be refridgerated and we will not be transporting any items back to the finish line.

SAG Pick-up
This is a double century ride and we ask that everyone whom signs up expects to ride the full 200 miles/kilometers. However there will be support vehicles to provide SAG for riders that can't meet the cutoff times and/or need assistance.

Post Ride Celebration
You are invited to celebrate post ride with all your new found friends. Festivities will be held from 5pm until dark near the Pavilion. All are welcome, and you can purchase a meal ticket for your guests for $10 each (participants eat for free). Please purchase guest meal tickets in advance during registration.